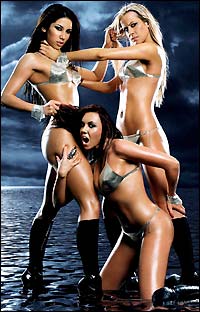 NO HOLDS BARRED: Stunners said they won't hold back in the ring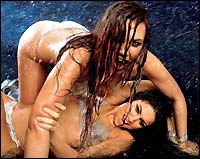 DIRTY FIGHTERS: Liberty X star Michelle scraps with Leilani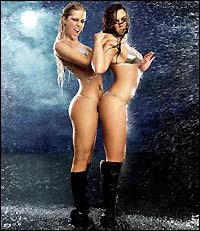 GET A GRIP: The girls mastered falls and submissions while the guys are hoping for a takedown
Pictures: Steve Neaves
EXCLUSIVE: Babes get to grips with wrestling

Three phwoars and a submission
By Rachel Richardson
MONTHS of training for Celebrity Wrestling have turned beauties Kate Lawler, Leilani and Michelle Heaton into wild animals.
When the gorgeous trio posed for Maxim magazine they just couldn't keep their hands off each other.
And the superfit stunners promised that they won't hold back when they face each other in the ring.
Big Brother Kate reckons anyone that crosses her will get a Takedown.
Helpless
The blonde explained the move would leave anyone helpless.
She said: "You basically have your legs on the outside of their knee and you use all your weight to push them down."
The girls have also mastered falls and submissions...so TV presenter Jenny Powell, former tennis star Annabel Croft and busty model Victoria Silvstedt had better watch out.
All the girls taking part, and the guys— ex-EastEnder Marc Bannerman, love-rat James Hewitt, The Farm winner Jeff Brazier, showjumper Oliver Skeete, BBC presenter Mark Speight and athlete Iwan Thomas—have been banned from nookie during training.
So Liberty X star Michelle has had to content herself with remembering past bonks with boyfriend Andy Scott Lee.
She said: "I once suggested we had sex in the car. I said it spontaneously and Andy's eyes popped out.
"We went to a lover's lane, so it wasn't too sleazy.
"I think you should try everything once in life."
But now she's planning to take out her pent-up frustration on her opponents—especially Victoria.
Michelle revelaed she's planning to tear the glamour girl apart!
She said: "I'd grab her by her hair and rip it out then I'd give her a good slap."
We're rooting for you, Chelle!
The show runs on Saturdays evenings on ITV1 this month.
GOT a story about a star? Ring us FREE on 0800 279 3785, text 07903 651 593 or send an e-mail to feature@notw.co.uk